easyGater
by Saschart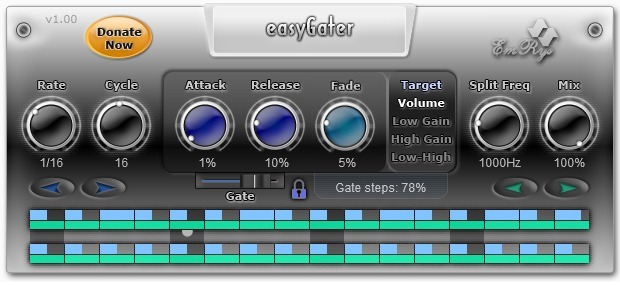 easyGater is a sequenced gater plugin which modulates the volume of an audio input signal.
You can now easily increase the dynamics and synchronization of your songs.
32 steps synchronized with the host. Each step can be set as duration but also as volume. Triplet and Dotted mode supported.
Can to set the speed (rate synchronized with host).
Set the length of a cycle.
Attack and Release for each step. You can also set the transition between steps with different volume in the Fade knob
You can change the volume target at the output of an internal filter: Low Gain, High Gain and oscillations between Low and High. You can also set the frequency that split the Low and High frequencies values
You can change the global time for all steps. You can to lock the steps set as tie so that the decrease of the global time gate does not decrease the time for the tie(link) steps.
You can change the values of the steps globally as time (blue arrows on the left) and as volume (green arrows on the right).
Few presets useful for a few musical genres: Trance, House, Groove.
Value input by key: over the knob and right click, insert value by key then hit enter.
Set default value: double click on the knob.
Very low resources taken!
https://vst.saschart.com/easygater_vst_c...ronization
or
easyGater.rar
(Size: 588.48 KB / Downloads: 13)