Audec Ring v2.0.0 x64 VST AU WiN MAC [free]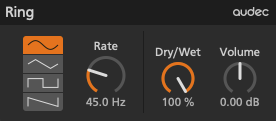 Overview
Ring is a ring modulator effect.
User Interface
    Waveform
        Waveform selector selects the carrier waveform.
    Rate
        Rate knob adjusts the carrier frequency.
    Dry/Wet
        Dry/Wet knob adjusts the balance of the dry and wet signal.
    Volume
        Volume knob adjusts the output volume.
Operating the controls
    Fine-tune the knob : Shift + Drag
        To fine-tune the knob, hold down the shift key and drag the knob.
    Reset the knob : Double Click
        To reset the knob to the default value, double-click the knob.
    Show the version number : Click the plug-in name
        To show the version number of the plug-in, click the plug-in name.
System Requirements
    VST3/AU – macOS 10.11 or newer 64-bit (Not compatible with macOS 10.15 Catalina)
    VST3 – Windows 10 64-bit
https://audec-music.com/ring/
or
adc_Ring_2_0_0.rar
(Size: 4.46 MB / Downloads: 6)