TB4005 VST Synthesizer
has no own gui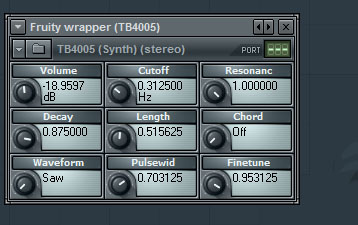 This is a new version of the classic Buzz plugin called Arguelles TB4004. The code is written all from scratch by JoaCHIP. The goal was to:
   Maintain the same simple controls as the TB4004
   Get rid of the crash bug and the samplerate bug in the original plugin
   Improve the sound quality by using a state-of-the-art lowpass filter
   Make a synth that behaves much more like an old analog synthesizer
Many synths drown the user in excessive amounts of controls, overly technical choices and complicated interfaces. The beauty of the original TB4004 was that it only offered the nine most important parameters, thus giving you a very quick way to "get there".
Great respect must go to the late Arguelles for the original design and concept. This plugin is here to honor his memory. Without his work, we would not have made the progress we have today.
The naming of the parameters is somewhat odd, but i kept most of it because this is basically a clone. This is also why i will not add more parameters even if requsted. The MIDI commands in VST does give you some extra features over the original:
MIDI commands
   Midi controller 5: Portamento time
   Midi controller 1: Mod wheel does vibrato
   Midi controller 64 (0x40): The sustain pedal acts as a handy randomizer.
   Pitch bend: Bends two semitones up or down.
The demos are realy good
http://www.robotplanet.dk/audio/tb4005/
or
TB4005.zip
(Size: 15.96 KB / Downloads: 21)