HoRNet HTS9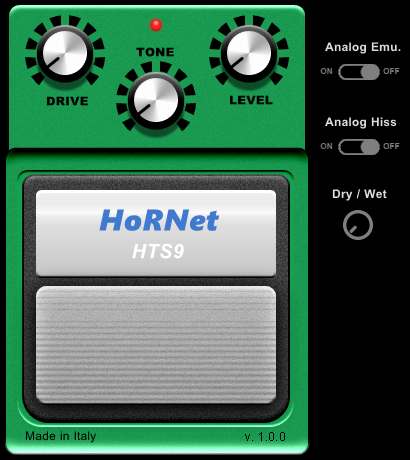 HoRNet HTS9 is a guitar overdrive modelled after a famous pedal produced by a Japanese manufacturer made since the first years of the 80s.
The sound of the pedal can be recognized in many recordings and it's a favourite among blues and rock guitar players. The pedal's job is to lightly distort the guitar sound and provide a sort of "boost" for the tubes in the amplifier. This is accomplished by two different stages, the first is a frequency dependent diode clipper that only distorts the frequencies above 720Hz, this kind of circuit allows the bas to be clean and not become muddy while the high frequencies gain body. The second stage is a tone shaper that is made by a filter that morph itself from a low shelf to a high shelf. To reduce the fizz introduced by the diode clipper everything is passed through a gentle 3dB/octave low pass filter. Our simulation of this classic pedal while staying true to the original sound as much as possible, also adds a gain compensation algorithm that keeps the output constant even if you increase the drive. We also have added analog style processing all over the signal path, of course this emulation can be disabled if you want a cleaner sound. The plugin always provide the best possible sound thanks to automatic oversampling, from 4x at 44100 and 48000 to 2x at 88100 and 96000.
Classic overdrive effect.
Adjustable effect level.
Tone control from dark to bright.
Analog emulation.
Dry / Wet knob.
Automatic oversampling.
Mac OS X (>=10.5 intel only) and Windows support.
64-bit compatibility both on Mac and Windows.
Audio Units, VST, VST3 and AAX format.
Price (MSRP) 6.99€
https://www.hornetplugins.com/plugins/hornet-hts9/