AdsrFilter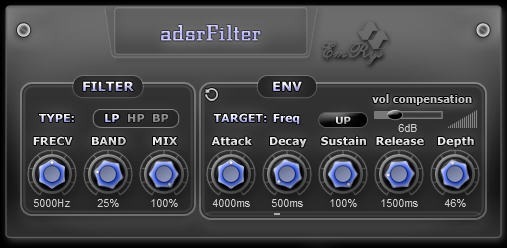 adsrFilter is a filter with ADSR envelope which can modulate filter frequency, bandwidth and filter mix! Extremely low resources taken!
Features:
    One filter with lowpass, highpass and bandpass.
    Bandwidth and filter mix.
    ADSR envelope with unique up/down mode.
    Volume compensation for ADSR with crescendo side to right, left or both.
    Visualization of modulated parameter value.
    Presets for uplifting, glissando and bandwidth by octaves.
    Midi reset button.
Requirements:
VST host and Windows 32 or 64bits
http://vst.saschart.com/adsrfilter
or
32bit
[attachurl=1]
64bit
[attachurl=2]