Open ModPlug Tracker
OpenMPT.org - Home of Open ModPlug Tracker | Discover the music inside...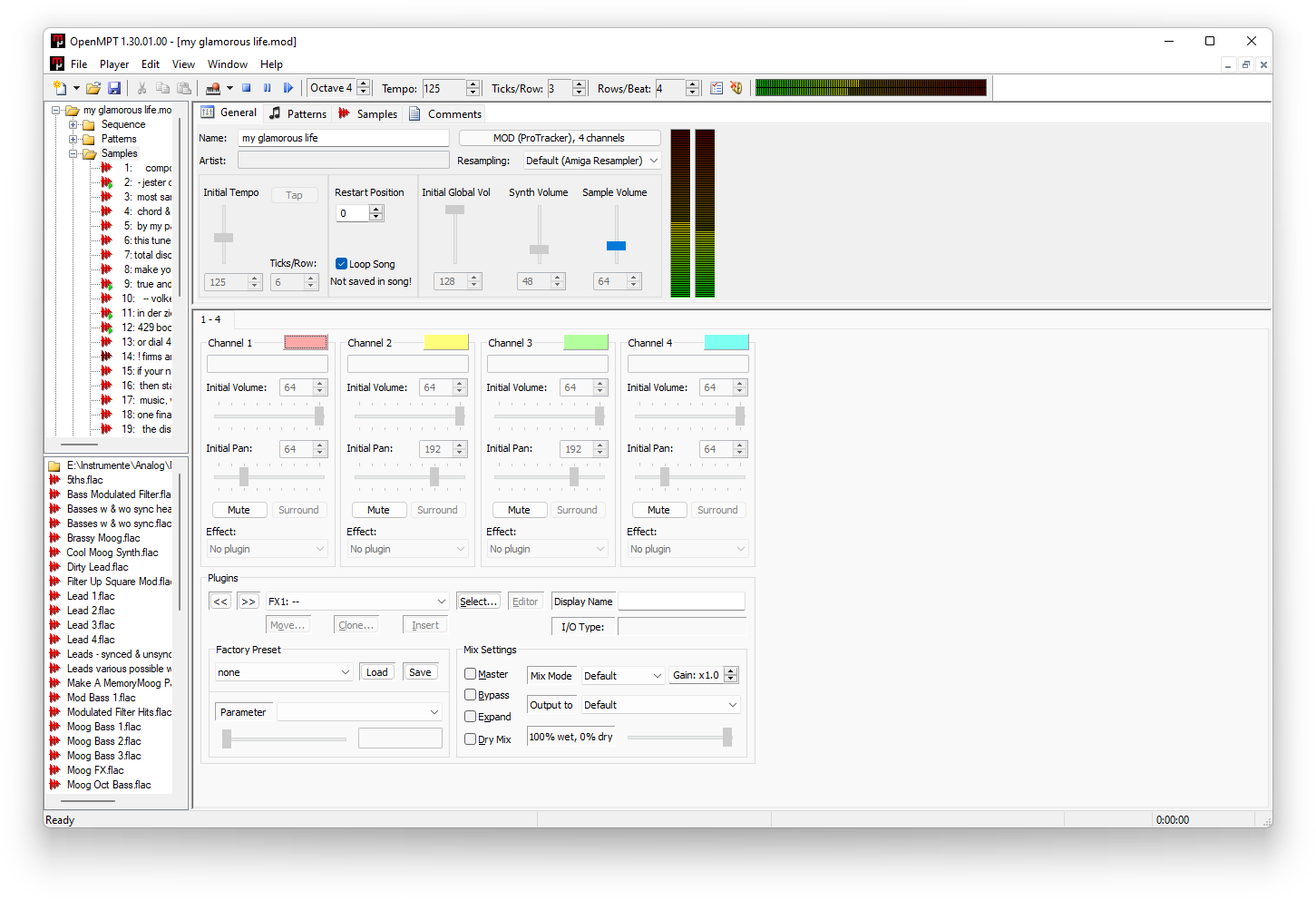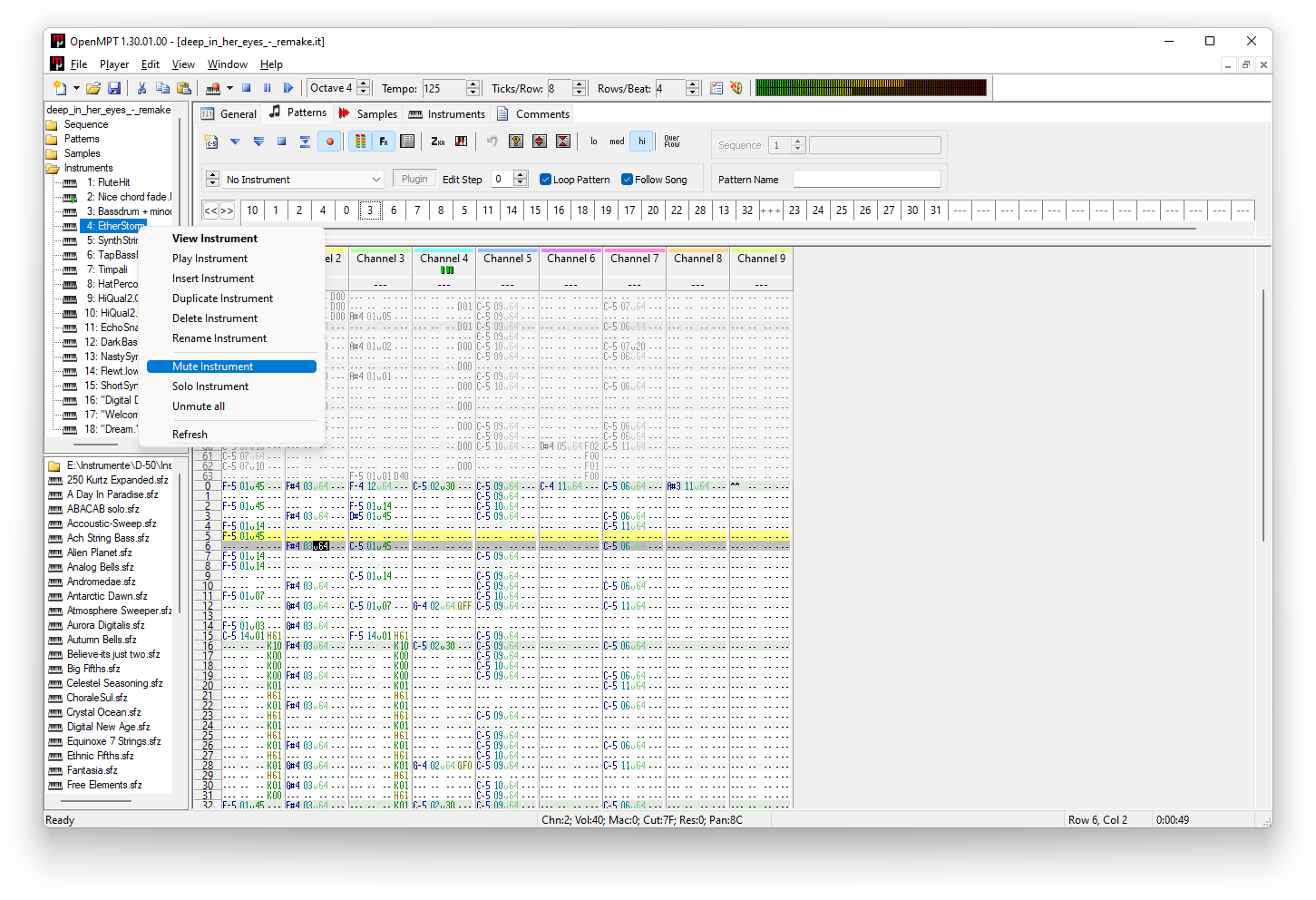 Features
OpenMPT is being developed since 1997 and has grown a lot since then. Here, you can find some of the key features of the tracker.
General
Native and fast Windows GUI
No installation needed, fully portable
VST effects and VST instruments supported
DirectX audio filters supported
Fully configurable keyboard layout (OpenMPT comes with key maps in various flavours including Impulse Tracker and Fasttracker 2 style, as well as a Dvorak layout)
Support for multiple sequences ("songs") in one file
Support for custom tunings
Suitable for live performances: Queue patterns, automate VST parameters using a MIDI keyboard, start and stop your modules with MIDI messages...
Editor features
True multiple document interface - open many modules at the same time and copy&paste between them!
Tabbed layout
Support for drag and drop in various places
Fast access to various places through the treeview: Load modules, samples and instruments directly from the treeview's built-in file browser
Up to 127 channels for editing (256 virtual channels)
Two editor modes: FT2 and IT notation
Many supported sample and instrument formats: WAV, XI, PAT, S3I, SMP, ITS, RAW, AIF, 8SVX, DLS, SF2, XI, ITI and more!
A versatile sample editor with useful features like sample normalization, DC offset removal, phase inversion, amplification, upsample, downsample, etc... You can even draw your own samples!
Record live from your MIDI keyboard directly into the patterns
Automate VST plugins directly from the patterns and write automation data directly into the pattern when turning the knobs on your VST interface
Edit one module in multiple windows, f.e. on several monitors
Audio output
Output via WaveOut, DirectX or low-latency ASIO
Up to 192 KHz, 32-Bit, quad surround
Several interpolation algorithms are available
DSP units like bass expansion, reverb, equalizer
Supported file formats
Loading (Modules)
Composer 669 / UNIS 669 (669)
ASYLUM Music Format / Advanced Music Format (AMF)
Extreme's Tracker / Velvet Studio (AMS)
DigiBooster (DBM)
X-Tracker (DMF)
DSIK Format (DSM)
Farandole Composer (FAR)
General Digital Music (GDM)
Imago Orpheus (IMF)
Impulse Tracker (Project) (IT / ITP)
Jazz Jackrabbit 2 Music (J2B)
DigiTrakker (MDL)
OctaMED (MED)
MO3 compressed modules (MO3)
ProTracker / NoiseTracker / etc. 4 - 32 channels, 15 or 31 samples (MOD)
OpenMPT (MPTM)
MadTracker 2 (MT2)
MultiTracker (MTM)
Oktalyzer (OKT)
Epic Megagames MASI (PSM)
PolyTracker (PTM)
ScreamTracker 3 (S3M)
ScreamTracker 2 (STM)
UltraTracker (ULT)
Unreal Music Package (UMX)
Grave Composer (WOW)
FastTracker (XM)
Compressed modules in ZIP / LHA / RAR / GZ archives
Other
MIDI (MID)
Uncompressed Wave (WAV)
Saving (Modules)
Impulse Tracker (Project) (IT / ITP)
MIDI (MID)
ProTracker 4 - 32 channels, 31 samples (MOD)
OpenMPT (MPTM)
ScreamTracker 3 (S3M)
FastTracker (XM)
Rendering / Exporting
MIDI (MID)
MPEG-1 Audio Layer III with ID3v2 tags (MP3)
PCM and Float Audio up to 192 KHz, 32-bit, quad surround (WAV)
Downloads:
OpenMPT 1.19.04 installer:
http://openmpt.org/download_file.php?fil...-Setup.exe
OpenMPT 1.19.04 zipped archive:
http://openmpt.org/download_file.php?fil....04.00.zip
A nice OMPT wallpaper:
http://ftp://ftp.untergrund.net/users/sa...0x1200.png
OMPT offline help manual:
http://modplug.sourceforge.net/ohm/OHM%201.19.1.pdf