Midside Matrix GHZ-0024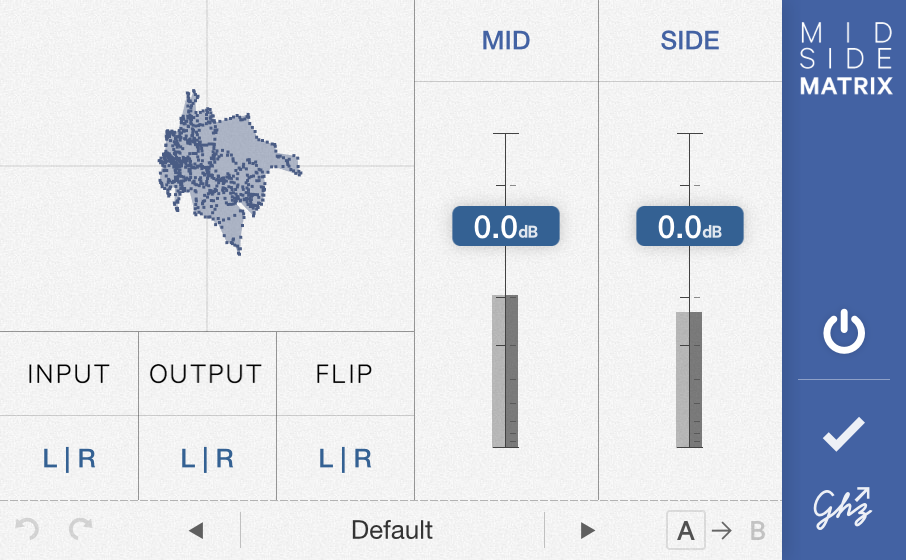 Midside Matrix pares down our acclaimed mid/side processor, Midside, to just the essentials: mid/side matrixing, gains, monitoring, & metering — all in a simple, lightweight package. And, because we love M/S processing so much at Goodhertz, we decided to make Midside Matrix free for everyone! Tell your friends (Twitter / Facebook).
Features
    •M/S encoding & decoding
    •M/S mute functionality
    •High resolution M/S gain faders
    •Pre/post fader level metering
    •Flip left/right
    •Click-free operation (fully automatable)
    •Large goniometer
Stereo Width Control
Changing the stereo width in Midside Matrix is as simple as boosting or cutting the side signal. Want to make a stereo source wider? — try a +6dB sides boost. Need to make something mono? — just mute the sides altogether. Need more fine-tuned stereo width controls? — check out all the expressive stereo width modes in the full version of Midside.
Easy Mid/Side Conversion
Using Midside Matrix, it's incredibly easy to convert between M/S and L/R stereo signals without needing to worry about extra buses, gain staging, or incorrect panning.
https://goodhertz.co/midside-matrix