ocenaudio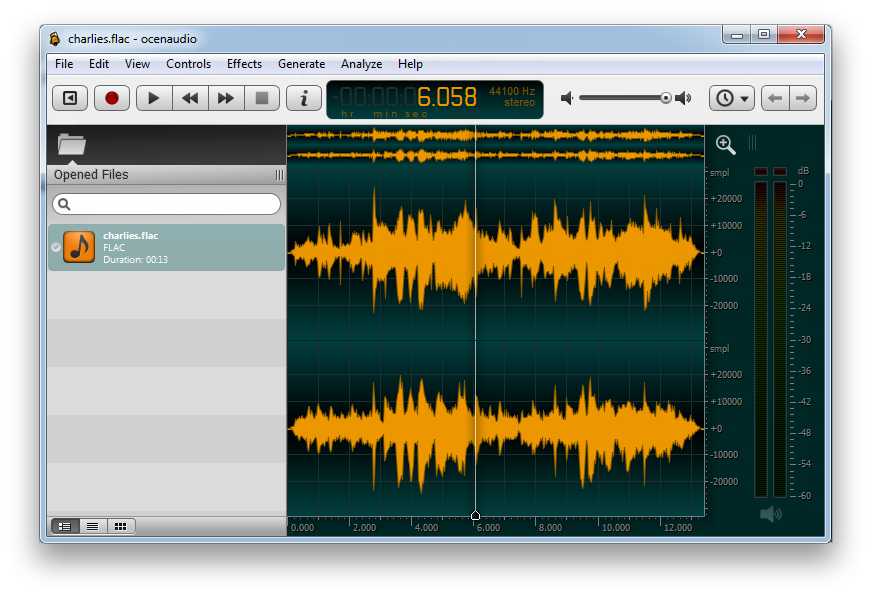 ocenaudio is a cross-platform, easy to use, fast and functional audio editor. It is the ideal software for people who need to edit and analyze audio files without complications. ocenaudio also has powerful features that will please more advanced users.
This software is based on Ocen Framework, a powerful library developed to simplify and standardize the development of audio manipulation and analysis applications across multiple platforms.
Why ocenaudio?
- Add "Convert to Mono" in open files list context menu
- Add option "play head follows cursor position"
- Add support to MP2 in MKV files
- Optimization of waveform render (uses openGL when available)
- Add regions highlight in open files search
- Keybindings preferences can be changed with doubleclick
- Add regions, markers and loop editors in the audio properties dialog
- Add record cursor (only to show the record position)
- Add Punch N Roll (with destructive recording)
- Complete support to high DPI displays
- Improvement of regions, markers and loops controls
- Add open files list sort capability
- Folder ($MUSIC)/ocenaudio is only created if used
- cue file support
- Removes ".dat" from ocenaudio associated extensions
- Add remember last folder used to save a file
- Add option to select bit depth when exporting PCM Linear in WAV and CAF
- Keyboard focus goes to label editor when region or marker is created
- Add optimization for linear transforms effects (gain, normalization and dc offset)
- Stylesheet update of toolbar in windows and linux
- Add support for audio screenshot in high dpi (requires Qt >= 5.5)
- Layout update of QuickOpen
- Add sinchronized view for two or more audio files
- ix presentation of preference dialog in Mac OS X full screen
- Fix problem opening files with mimetype audio/l16
- Fix regions playback issue
- Fix freezing when close ocenaudio while region is being edited
- Fix state of loop control in toolbar
- Fix issue that can freeze ocenaudio when a message box is created during the close process
- Fix a dead area bug (canvas area which not respond to mouse events)
- Fix a problem that causes freezing in the audio mixer
- Fix a bug with corrupted access of memory in some conditions. (Thanks to Frank!
- Fix a bug with channel synchronization during audio capture
- Fix audio mixer when the selected backend dont have any active devices
- Fix toolbar state on mac in some conditions
- Fix issue that could create an empty undo when inserting regions
- Fix issue that could freeze ocenaudio if region/marker or loop is being edited when quitting
- Fix minors bugs
Easy, fast and powerful audio editor.
ocenaudio is available for all major operating systems: Microsoft Windows, Mac OS X and Linux. This means you can always rely on ocenaudio on any computer.
http://www.ocenaudio.com/