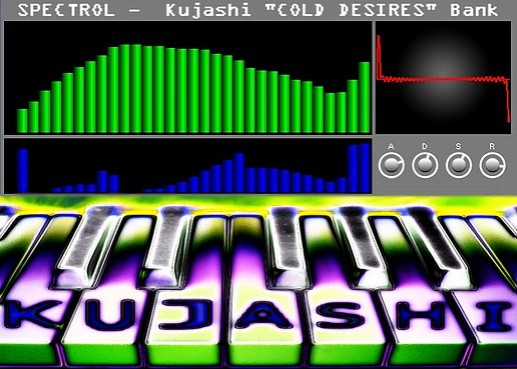 Exklusiv für Music-Society-Mitglieder: Eine Soundbank mit 40 Patches für den SPECTROL von KRAKLI.
Nachempfunden den Sounds von PPG Wave, Fairlight und Synclavier. Sounds mit Reminiszenzen an Gruppen wie "Tangerine Dream",
"Laurie Anderson, Kate Bush" oder "Peter Gabriel" in den 80igern.
Mit typisch digitalen, additiven Sounds, zerbrechlich Perkussivem, Bells, Atmos, Pads, Chören, DigiPolys oder Bässen.
Der "Spectrol" ist selber sehr rar und wohl unter Krakli´s Facebook-link auch nicht mehr erreichbar....Deshalb
der link von mir unten....
Exclusively for members of Music-Society - a new soundbank of mine for the SPECTROL from "KRAKLI". 40 Patches
in the style from the era of the 80ies of Synthlegends like "PPG Wave, Fairlight, Synclavier". Sounds that reminisce to
groups and stars like "Tangerine Dream, Laurie Anderson, Kate Bush" or "Peter Gabriel", who used equipment like that.
Mainly digital, additive sounds, fragile Percussive sounds, Bells, Athmos, Choirs, Digital Polysynths, Pads or DigiBasses.
The Spectrol is indeed very rare too and how it seems, no more available under Krakli`s Facebook-link.
So you can get Spectrol by the link below.....
Im nachfolgendem Sounddemo Patches nur aus der Soundbank ohne externe Effekte.....bis auf lediglich die Drums.
Soundtypisch wie die Bank, habe ich das Demo ebenfalls mit "Anklängen" an die 80er eingespielt.....
The following sounddemo was played and recorded only with sounds of that bank - without any external effects - but only
the drums.....Typically sounding like the patches, I´ve tried to play the sounds in the demo with the spirit of the 80ties in mind...
kujashi_SpectrolColdDesires_demo.mp3
(Size: 4.93 MB / Downloads: 40)
Bei Interesse - der link:
By interest - the link:
Spectrol_Kujashi Cold Desires.rar
(Size: 67.24 KB / Downloads: 117)
Spectrol - link:
Spectrol.rar
(Size: 700.94 KB / Downloads: 107)
A. Kujat
Kujashi (aka Schiffbauer)
"Ein Leben ohne Synthesizer ist möglich, aber sinnlos!"
"Ehe man den Kopf schüttelt, vergewissere man sich, ob man einen hat" (Truman Capote)
"Unser größter Ruhm ist nicht, niemals zu fallen, sondern jedesmal wieder aufzustehen" (Ralph Waldo Emerson)