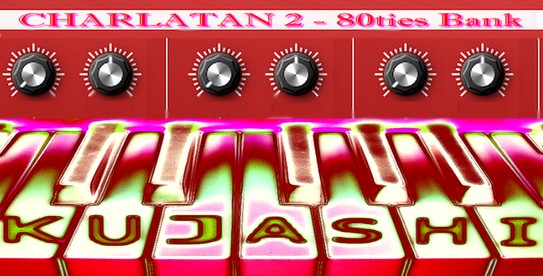 [/url]
Exklusiv für Music-Society-Mitglieder für den Charlatan 2 von "Blaukraut-Engineering" eine Soundbank mit 32 Patches im Stil der 80er.
Aufgrund von einigen Diskussionen in anderen Musikforen und derzeitiger eigener Musikprojekte im besagtem Musikstil, habe ich mit
etwas eingehender mit dem Charlatan 2 befasst, der seit Mai d.J. vom Developer neu als Freeware erhältlich ist.
Die Patches sind eine Mischung aus der Zeit typischer Polysynths, Stringpatches, Pianoähnliches, Basses, FX etc.
Exclusively for members of Music-Society - a new soundbank of mine for the Charlatan 2 from "Blaukraut-Engineering". 32 Patches
in the style of the era of the 80ies. Cos of some discussions in other forums and own musicprojects in this style, I decided to
create some patches for this synth....
In this bank there are some typical Polysynths, Pads, Keys, Basses or FX/Seq.sounds of that time....
Nachfolgende Sounddemo wurde ausschließlich mit den Patches der Bank eingespielt - dabei ohne externe Effekte, bis auf etwas
Mastering mit Kompressor, EQ und Pan....
The following sounddemo was played and recorded only with sounds of that bank - without any external effects, but with some
mastering, EQ, and panning....
[mp3=200,20,0,center]http://music-society.de/index.php?action=dlattach;topic=4685.0;attach=3137[/mp3]
Demo by Bam Dorner
https://soundcloud.com/user-70356205/kuj...atan2-demo
Bei Interesse - der Link:
Charlatan2_kujashi 80ies bank.rar
(Size: 66.69 KB / Downloads: 167)
kujashi_Charlatan80ties_demo.mp3
(Size: 3.21 MB / Downloads: 57)
Kujashi (aka Schiffbauer)
"Ein Leben ohne Synthesizer ist möglich, aber sinnlos!"
"Ehe man den Kopf schüttelt, vergewissere man sich, ob man einen hat" (Truman Capote)
"Unser größter Ruhm ist nicht, niemals zu fallen, sondern jedesmal wieder aufzustehen" (Ralph Waldo Emerson)