Maize Studio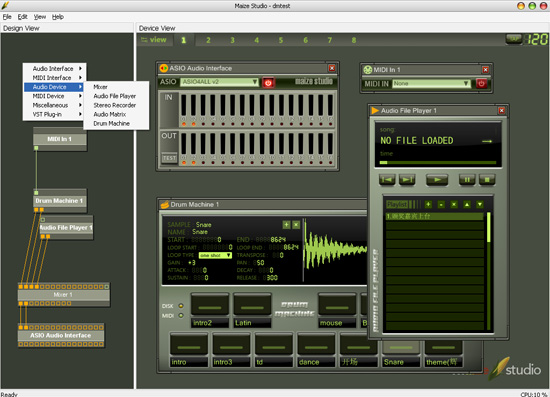 Maize Studio is a modular live audio environment. You can build your audio devices and connect them with virtual wires. Maize Studio supports VST plug-in and provides many native devices. Based on the Device-Oriented design concept, every function is described as a device. With all kinds of devices, Maize Studio is able to fulfill your needs on stage or in studio with maximum flexibility.
The following are the current built-in devices provided by Maize Studio:
ASIO Audio Interface
————-
MIDI In
MIDI Out
Keyboard
Raw Input Keyboard
————–
Mixer
Audio File Player
Audio Matrix
Stereo Recorder
Drum Machine
————–
MIDI File Player
MIDI Channel Splitter
MIDI Note Splitter
MIDI Matrix
————-
Clock
Notepad
Features:
Modular architecture, inspire your creativity
Support VST Plug-in and ASIO driver
Amazing GUI which is based on GDI+ technology
Fast MIDI mapping
32bit internal precision
Intel CPU optimized
Build-in disk streaming simple sampler
Build-in all formats audio player
Build-in SMF player
Project file save and load

http://www.maizesoft.com/download/ms/mssetup.exe
http://www.maizesoft.com/download/ms/manual.pdf
Don't forget to write or click a thank you, because it takes a lot of work to search the files.
---
bam
http://bam-dorner.de
AllDebrid
Free 50 GB Cloud
Pass if needed:
bam4LoFo