ZAMP + QUAD ZAMP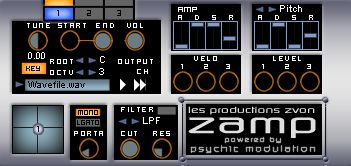 ZAMP is a freeware simple VSTi sample player, it can load and play 3 wav files simultaneously. It was exclusively designed for Les Productions Zvon by Psychic Modulation and is based on their Cortex drum sampler. Zamp is for Windows.
Main Features:
- VSTi plugin, 2 versions included (2 DLLs), one with a single stereo out and one with three stereo outs
- Can load and play up to 3 samples simultaneously
- 1 amplitude envelope and 1 pitch envelope
- Each sample has its own tuning, start and end points, loop, reverse, volume and panning controls
- Each sample has its own velocity sensitivity control
- Mixing Grid for the samples
- 3 randomizers for each wavplayer, they are accessed by clicking one of the four 'screws' around the name
----------------------------------------------------
Quad Zamp is a one-shot/drum VSTi sample player, consisting of four 'Zamp' style multi wav players, 12 wavplayers in total. Each wav player is assigned to a certain key, from C2 to B2. This can be customized. More info in the readme included with the download. Also includes samples from the IYTTIW modified trumpet and,Prepared Rhodes sample sets with ready to use kits.
http://lesproductionszvon.com/Software.htm
or
zamp_v1.3.rar
(Size: 4.53 MB / Downloads: 9)
zvon_quadzamp11.rar
(Size: 2.48 MB / Downloads: 9)
QuadzampManual.pdf
(Size: 165.89 KB / Downloads: 123)