BIONIC SUPA DELAY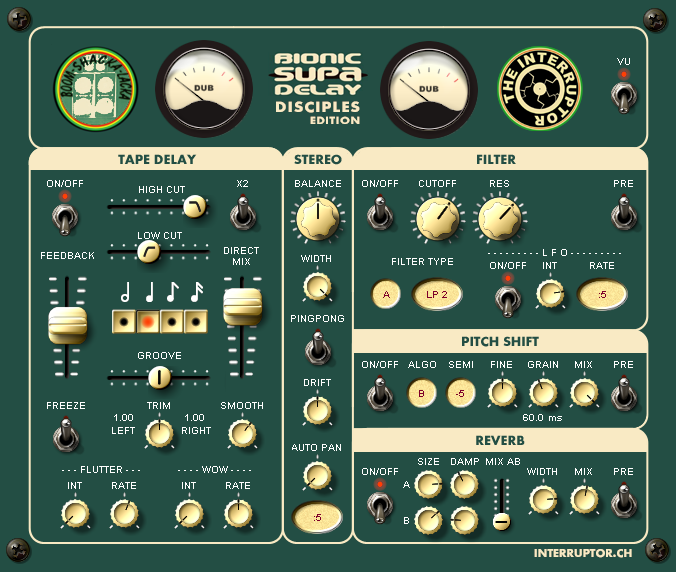 Tape delay section:
- high and low frequency roll-off
- tape wow and flutter
- smooth parameter for continuous delay time changes
- freeze function
- x2 button, doubles the delay time
- delay time is syncronized with host tempo
- set any delay time between tripplet and doted note timing
- set different delay times in left and right channel
Stereo section
- balance control pans the effect left and right
- stereo width control
- ping pong delay switch
- delays drifting from the center to the left or to the right
- auto panner
Filter section
- 12 filter types
- LFO to modulate cutoff frequency (host synchronized)
- flexible routing: before or after the delay
Pitch shift section
- 5 algorithms
- can be used also for chorus effect
- flexible routing: before or after the delay
Reverb section
- 2 reverbs A, B with different characters can be mixed
- flexible routing: before or after the delay
Each section can be disabled. Using the flexible routing options many different effects chains can be achieved. Examples:
- Send Reverb into Filter with LFO modulation
- Pitch shifter inside the delay feedback loop for continuous shifts with each delay repetition
Signal flow diagram: shows the currently selected routing of the different sections
Pop-up hints help to understand the function of each control on the user interface. These appear when the mouse rests over a control.
MIDI learn: Each control can be automated via MIDI controllers.
http://www.interruptor.ch/vst_donationware.shtml