Ixox Flute
http://xhosxe.free.fr/ixoxflute.html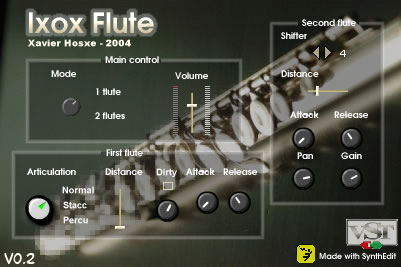 Quote:THIS IS NOT A PROFESSIONNAL SOUND FONT !!!
Expect bad/noisy playing, out of tune notes, bugs etc.....

I played the flute you hear.
I used to play rather well, but i almost haven't play at all since
7 years. So the sound of the flute in this library is not what people
know as a nice flute sound !!!

Anyway, i hope it can be usefull.

Some details:
  General detail
   - For each octave i recorded a : c Eb f# and a A
     so that you SF2 player will never interpol more than 1 semitone !

  Main flute recorded with a studioproject C1/VTB1:
   - Normal mode : 3 octaves / 3 velocity layers
   - staccato/détaché mode  : 3 octaves / 2 velocity layers
   - Percussiv mode : 2 octaves / 1 velocity layers

  Second flute recorded with an SM58 in a studioproject VTB1 :
   - 3 octave / 1 velocity layer
   - was out of tune before v0.2c (tuned by Mikemix)

  VST
   - 100% synthedit
   - allow fun stuff like a dirty sound with an emmbeded sf2
   - automatic second flute

You can use the sf2 separately of the VST in your favorite sf2 player (SFZ?)...
ASN-Excerpt.mp3
(Size: 2.12 MB / Downloads: 42)
SG-Excerpt.mp3
(Size: 1.76 MB / Downloads: 38)
Download:
http://xhosxe.free.fr/zic/IxoxFlute_v0.2.rar
or
IxoxFlute_v0.2.rar
(Size: 12.71 MB / Downloads: 2)