XYXY vsti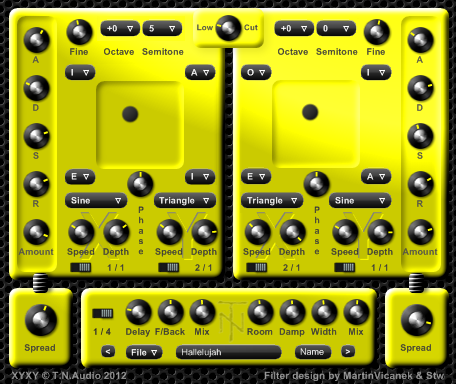 XYXY vsti is an instrument that consists of two supersaw oscillators which even at full detune are still harmonically pleasing with each oscillator fed into four user defined vowel filters, the mix of which can be either controlled manually or by two LFO's one for the X axis and one for the Y axis.
The LFO's rate can be adjusted from 0 = off to 1.2Hz or set to a note length of the current tempo.
There are two of these for each oscillator hence the name XYXY.
Each oscillator has its own ADSR with volume amount and spread (supersaw detune) plus the usual octave semitone and fine tune.
Effects wise it has a delay that can be synced to note lengths of the current tempo and a reverb both of which when their mix's are set to zero are disabled and can save quite a bit of CPU.
Lastly there is the master low cut needed as some of the vowels mostly the A can with certain settings output very low resonating frequencies that can cause distortion.
Final note the oscillators are not band limited so high frequencies will cause aliasing and I like to think can be useful as an effect.
Update as of 4/10/13 also available XYXY version 1.1 with band limited oscillators, alittle heavier on th cpu so use version1 if you cannot hear / like the aliasing and use version 1.1 if you can / don't. Both now come with standalone versions.
http://www.mediafire.com/download/mwzs8r...dalone.zip
http://www.mediafire.com/download/cnhoh5...dalone.zip