Zulu DJ Software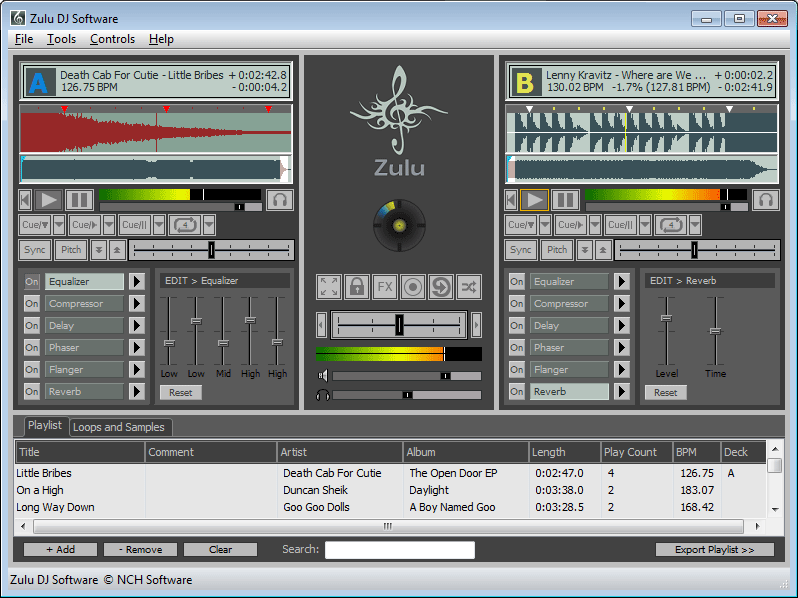 This virtual DJ software is designed to be a very easy and intuitive to use. Within minutes you will be able to load audio files and broadcast live while applying effects. But if you take time to explore the other features you will find many powerful tools designed with the professional DJ in mind.
When loading a music track onto a deck Zulu will automatically scan the file for a beat and assign a beat per minute (BPM), and will change the tempo in the second deck for perfect synchronization. Drag and drop music into and around the application's interface and preview an upcoming track through headphones via a secondary audio output.
Zulu DJ software is completely free with no restrictions. If you like it, we rely on voluntary donations from supportive users to continue funding development.
* Crossfade in between two tracks.
* Automatic beat detection.
* Synchronization between the Decks.
* Supports a large number of audio file formats including wav (multiple codecs), mp3, vox, gsm, real audio, au, aif, flac, ogg and many more
* Change the pitch in real time of each track, slow it down or speed it up to manually sync it with the other tracks.
* Tap tempo, tap space bar in time with the beat to obtain the correct BPM for a track.
* Manual edit of BPM, input your own BPM value if you think Zulu may have scanned it incorrectly.
* Hot Key control so you can assign any key or key combination to the buttons and switches on Zulu for faster use.
* Add a cue pointer marker at any point in a track to instantly start playing the track from that point.
* Loop sections within a track and syncronize that loop to the BPM.
* Real time Equalisation on each Deck (track) including "kill" buttons for instant EQ.
* Apply effects in real-time to a track.
* Effects include Distortion, High Pass Filter, Reverb, Phaser, Flanger and Delay.
* Separate output for Professional DJ Headphones.
* Simple and intuitive user interface for day-to-day operation.
* Can be used with a USB DJ Mixing Console
http://www.nch.com.au/dj/index.html
Don't forget to write or click a thank you, because it takes a lot of work to search the files.
---
bam
http://bam-dorner.de
AllDebrid
Free 50 GB Cloud
Pass if needed:
bam4LoFo