SpaceScraper free distortion plugin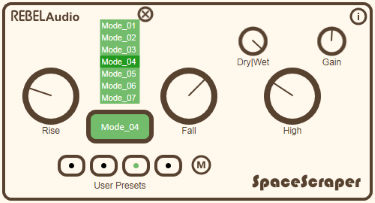 Based on a new adaptive distortion algorithm the SpaceScraper offers an innovative and wide sound range. From shrill whistling to soft bubbling everything is possible.
The SpaceScraper bundles a complex internal architecture in a very user friendly interface. Select one of the seven available modes to get a completely different sound impression. Try the influence of the parameters 'Rise' and 'Fall' and the analog approximated high-pass-filter. It's magic!
http://rebel-audio.com/
or
SpaceScraper_01_03.zip
(Size: 522.55 KB / Downloads: 13)