[b]Ambient Reverb
[/b]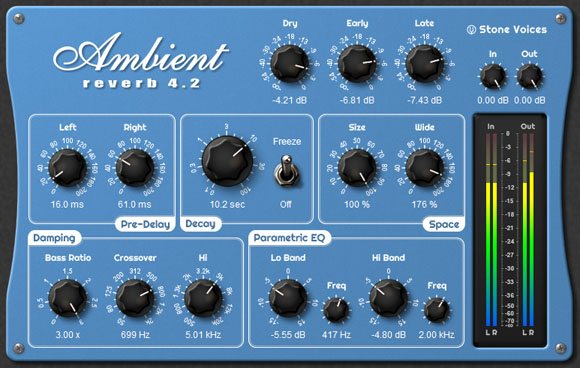 The free high-quality reverberator of «Ambient Reverb» is intended first of all for operation with sound material in a ambient genre, though with success it can be applied also in other musical styles and the directions (for example for a vocal very excellently).
Distinctive feature of a plug-in is the broad range of reverberation time (up to 100 seconds) that allows to receive types of reverberation, different on character, and also an opportunity in a literal sense to freeze sounds, at the same time to receive interesting sound pads, like Frippertronics. The reverberator of «Ambient Reverb» works by the principle of algorithmic reverberation with calculation enough the dense sound reflections on time, allowing to receive realistic reverberation without effect of granularity.
:
   16 factory presets.
   Two band parametric equalizer.
   Indicator and knobs of input/output level.
   Low load of the CPU/FPU.
   The 32nd and 64th bit versions of a plug-in.
   Windows xp and above.
   VST 2.4 protocol.
http://stone-voices.ru/vst/ambient_reverb?lang=en
or
AmbientReverb4.0.rar
(Size: 4.07 MB / Downloads: 18)