---
Trilobite Modular Synth [free|pro] - Bam - 21-07-2014



Trilobite 0.9.3, free beta edition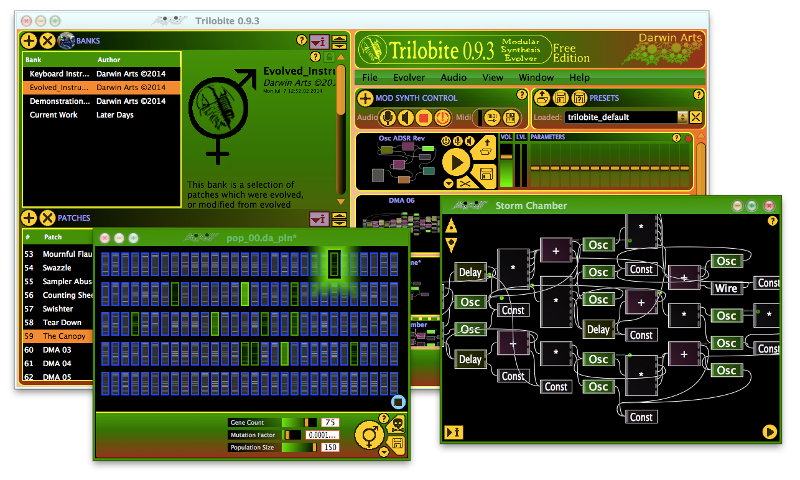 After nearly two years of feverish work in every spare moment, our flagship product is out for its last beta release.  Trilobite 0.9.3 is the successor to Cambrian Suite 0.9.2, and this time the evolutionary progression has been profound.  Version 0.9.3 represents a "Cambrian Explosion" insofar as it makes the immense and necessary step of combining all of our previous separate evolutionary audio tools into one, with many other new features besides:
Available for Macintosh OSX as well as Microsoft Windows
Audio Units and VST plugin versions are provided for their respective platforms
Completely overhauled and optimized modular synthesis engine
you have tor register to download it
http://www.darwinarts.com/8-2/products/
---
Trilobite 1.3 modular synth - Bam - 28-05-2016



Trilobite 1.3 modular synth
Using the same natural phenomena that brought you jellyfish, the platypus, Tyrannosaurus Rex, and yourself, this synth exploits Darwinian Natural Selection to help you create radically bizarre new sounds from basic acoustic building blocks.
Trilobite's visual editor allows you to construct custom synthesis patches to create drones, keyboard instruments, effects... you name it. Once you've created a custom instrument, you can then use the Evolution Engine to create thousands of mutated possibilities, and even breed your new patch with others that you love.
This version of Trilobite introduces parameter naming features, new module types, four banks of demo patches, and several important bug fixes.
These are the currently available free downloads from Darwin Arts. Note that you must be registered as a user of our web site and logged in for the links to be enabled.
http://www.darwinarts.com/8-2/downloads/
---
Version 1.4 - tf-drone - 13-05-2020



Modular Synth Evolover

 

Downloads are free now, no registration needed

Professional version: 69,00 $
Sister product:
Trilobite Sounds Player
7,00 $, free for Trilobite Pro users
---